Give me 5 for Kids is an amazing charity that supports children and their families while they're in hospital. This year we have put together two raffles with awesome prizes and as always there is a donation tin at front reception. We will also be a part of 92.7's Mark and Caroline's Cash Grab fundraiser on the 13th of June!
There is a beautiful kids hamper up for grabs for $2 a ticket or 3 tickets for $5!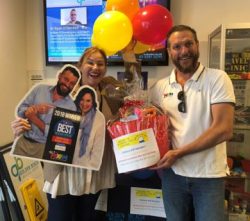 We are also running a number board raffle. To enter you buy a number between 1 – 100 from the board for $5 from reception. The winning number will be randomly selected and the winner will receive a prize of $100! (Donated by Golden Beach Medical Centre) Once a number has been bought no one else can buy it so get in quick!